Berichten met de tag: "campaign"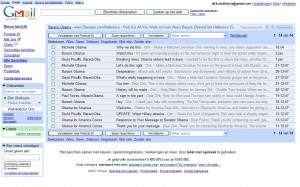 In 11 van de 14 mailtjes word ik verzocht om $25,- te doneren. In één mailtje wordt uitgelegd hoeveel ik volgens de wet maximaal mag doneren en hoe dat fiscaal een beetje handig kan. Tis wat…
Het draait in Amerika om geld en macht. Lijkt me sterk dat Barack Obama daar iets aan gaat veranderen, hij doet al mee aan het systeem van geld en macht voordat hij president is.  Ik denk niet dat hij weerstand kan bieden aan de geldmachines van de wapenindustrie, gezondheidszorg, olie-industrie en andere machtige partijen die het land regeren.
Intussen wint Barack wel de verkiezingen in Iowa en laat hij Hillary Clinton ver achter zich. Kreeg net een mailtje van hem waarin hij mij bedankt voor alles. 
Dirk –
We just won Iowa, and I'm about to head down to talk to everyone.
Democrats turned out in record numbers tonight, and independents and even some Republicans joined our party to stand together for change.
Thank you for everything you've done to make this possible.
Barack
De Amerikaans wet verbiedt buitenlandse bijdragen aan de campagne. Ik was nieuwsgierig en vroeg waarom ik niet mocht doneren. Onderstaand geautomatiseerd bericht ontving ik als reactie. Ik heb uiteindelijk geen geld overgemaakt maar ik mij voorstellen dat er niet-Amerikanen geld hebben overgemaakt naar de campagne van Obama. Het is gewoon te makkelijk.
Dear Friend,
Thank you for contacting us with questions about donating to Senator Obama's campaign. Senator Obama and his family have been touched by the outpouring of support they have received over the last several months. Your generosity is essential to our success, and we process donations as quickly as we can.
The easiest way to donate is at our secure website: http://my.barackobama.com/acdonate. You can also sign up to give a recurring monthly donation at http://my.barackobama.com/acmdonate. While the website is encrypted and your information will be safe, you can also donate through the mail. Simply print contribution form at https://donate.barackobama.com/page/-/documents/Contribution%20Form%20Revised.pdf and send it with your contribution check to:
Obama for America
P.O. Box 802798
Chicago, IL 60680
If you've already donated, the fastest way to make sure that your donation was successful is to check your bank or charge card statement. When donating online, you will see a confirmation if your email address is entered correctly and if your spam filter is set to receive messages from info@barackobama.com. If your payment hasn't shown up on your bank or charge card statement within four weeks, please follow up with us through the online contact form or by phone at 866-675-2008.
Please note that only U.S. citizens and lawfully-admitted permanent residents age 16 or older can donate to federal campaigns, and that Senator Obama does not accept contributions from corporations, PACs, children under the age of 16, or federal lobbyists. Please also note that an individual may donate up to $2300 for the primary election and $2300 for the general, for a maximum allowable donation of $4600 for individuals and $9200 for couples. You can donate in your own name only and you may only use personal funds. Also know that we appreciate reports of unauthorized solicitations and take them seriously. Thank you again for contacting us, and for supporting Barack.
Sincerely,
Obama for America
Join the Team: http://my.barackobama.com/acmybarackobama
Donate Once: http://my.barackobama.com/acdonate